We are aware that the some links on the left of the page are not working.
Please use the following:
http://www.ageconnectstorfaen.org/
http://www.ageconnectscardiff.org.uk/

Please join our campaign, share our video on social media and click on the image above to donate today!
*Actors have been used within all #thingscanchange marketing material
"Loneliness and the feeling of being unwanted is the most terrible poverty"

Mother Teresa
Imagine feeling all alone to face the uncertainties that old age often brings. Sadly there are far too many lonely and isolated older people in our communities these days. It can be a terrible and frightening experience to find yourself all alone, seeing no-one for days on end. Older people are particularly vulnerable to social isolation or loneliness owing to loss of friends and family, mobility or income. Many struggle to get out at all without support, or lose the confidence to meet new people, or even just make the trip to the shops.
"I never thought I could stay in this house for 24 hours, but I could stay in here for 3 days now and I won't even open the door."
This is where your local Age Connects charity can offer a lifeline. For decades we have been providing vital services and support to thousands of older people, such support services to help older people get out and about, get involved with local groups or even assist with a trip to the shops. We can even provide a volunteer to call round and have a cuppa and a chat if that's what needed. Sometimes it's enough just to know someone is going to be popping in to say hello.
We rely heavily on donations to be able to keep these essential services up and running. Please watch our video, share on social media and donate to help us tackle this problem face-on.
… "Feeling wanted… that's what it's about, knowing that you're wanted!"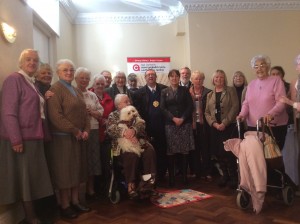 The Older People's Commissioner for Wales, Sarah Rochira, took up an invitation to hear what older people in Denbighshire had to say about life for over 50's in the County.
The Llangollen 'Hubbub' Forum sent a message to the Commissioner's office to ask her to come and hear their views on the issues affecting older people in the region and to quiz her about latest report 'A Place called Home?', which found that too many many older people living in care homes across Wales have an unacceptable quality of life.
During the Commissioner's visit last Friday (14 November), the group also raised concerns about the quality of care in local care homes, as well as the plight of older carers across Wales, the change of warden initiatives in sheltered housing, funding for older learners and the unacknowledged worth of older people to the economy as workers and carers.
Hubbub member Nan Edwards said: "It was great to welcome Sarah to our meeting and to hear her response to some of the many issues affecting older people in Wales today. I wanted to let everyone know that we have an active Forum in Llangollen and people should come and join us!"
Speaking at the event, which was attended by 30 forum members, the Commissioner said: "It was a pleasure to meet and speak with members of the Hubbub Forum in Llangollen and others who joined us from across Denbighshire and to hear about the issues that matter most to them. They were clear that older people must have a voice that is heard, particularly those who may be particularly vulnerable, such as care home residents.
"People's voices in care homes are often diminished and it is vital that these voices continue to be heard to protect people's rights. A high price is paid when the voices of older people are not listened to, not only by the system, but also by individuals due to the impact that this can have on their lives.
The Commissioner added:
"It is the little things that make life big and I want to see care homes that provide a real quality of life for residents, a system with quality of life at its heart that takes people's choices and wishes into account.
"I want to set a new benchmark in the duty of care we owe to older people and it is essential that we no longer consider care delivered with the absence of abuse and neglect, to be 'good care'."
Judith Wynne, Chief Executive of Age Connects North Wales Central, who supported the event, said: "As always, Sarah Rochira spoke with great conviction about the absolute need to listen to older people who are and who will become more and more powerful as a voice in society, as more of us live longer.
"We are particularly pleased that she continues to champion independent advocacy in care homes, which we are thankfully still able to to provide, as well as our Speak UP project, which builds confidence and resilience for the most vulnerable people in care."
Cllr Bobby Feeley, Lead Member for Social Care and Older People's Champion in Denbighshire, welcomed the findings of Sarah's care home report but cautioned against raising anxieties for older people who may be currently living in, or have a future need for residential care. "Although there are always examples of settings where work is needed to improve care, we do have some very good homes in Denbighshire and we need to build on the good practice that is out there" she said "Denbighshire County Council is helping older people in the county to have a voice through partnership with Age Connects North Wales Central and I am glad that projects such as Advocacy, Speak Up and Hubbub, which are all supported by Denbighshire's Adult Social care Services, are continuing to have a positive impact"